About SIMASV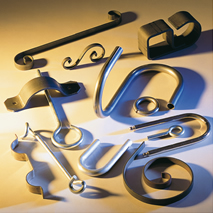 SIMASV was born in the mid 1950s, as a manufacturer of hide processing and treatment leather machinery. With knowledge and experience gained in the many thriving industrial fields during those years, the company is increasingly guided and moves into machining enhancing it machinery building operation. In 1962, the company launched the market's first horizontal hydraulic press for bending and cold-forging various types of section bars.

These were pioneering machines in the cold deformation sector and, thanks to their incredible versatility, were the driving force behind the development of a full line of equipment and applications involving a wide range of processing techniques. Since then, Simasv has grown and broadened its range of products thanks to its ability to recognize the signs of change and to satisfy the constantly changing needs of an evolving market. Today, the company offers a wide range of machinery in both the manual and numerical control versions. Simasv's activities have always been geared toward production differentiation in various fields of application. These include the mechanical sector as well as building, electrical technology, refrigeration, civil and industrial furnishings and systems, door and window frame fabrication and many others.

Over 70% of this Italian's company's production is exported to the world markets. The growing demand for Simasv machinery is proof of the company's ability to maintain high quality standards and to meet the requirements of its customers in a meticulous, reliable and professional manner. Each year SIMASV reinvests a portion of its profits to carry out technological research, to renew and expand its production division, to provide technical and sales personnel with professional training and updated skills.
SIMASV is a dynamic company, conscious of their experience and strong tradition in its fifty years of existence, with the ability to adapt to changing market conditions. SIMASV is known for the ability to always offer high quality products, innovative and technologically advanced, supported by numerous patents and today even more attractive design, and maximum productivity, with an excellent quality / price ratio.

SUCH RESULTS ARE NOT DUE TO LUCK OR TO CHANCE, THEY ARE THE FRUIT OF ACCURATE PLANNING, A CREATIVE AND FAR-SIGHTED VISION AND RIGOROUS EXECUTION