J&S Machine offers several styles of loaders for connecting with the YLM CNC tube benders. The addition of an automatic tube loader to the pipe bender will increase production and save operational cost by reducing the manual labor required to produce your products. The most popular models shown below include the side loading / unloading system designed for working with the smaller CNC benders and the larger front loading model for the larger CNC tube benders.
Model SF016 side loader
The model SF016 side loader feature a tube storage area that sorts and loads the tubes one at a time utilizing a double grip actuator arm to side load the CNC tube bender in a non mandrel bending operation. At the end of the bend cycle this model also grasp the bent tube and unloads the part placing it in a storage bin for ease of handling. Communication with the bender insures a smooth consistent operation.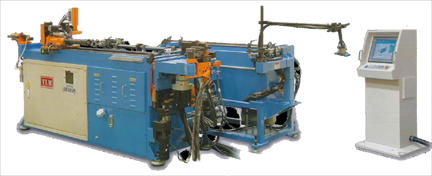 FD 045 and YFD- 90C
The model FD 045 and YFD- 90C front loader is designed for working with CNC tube benders in either a mandrel or mandrel less bending operation. The loaders use a seam finder image inspection system for alignment of the tube to the tube bender. The loaders feature the following:
PC base controlled system for ease of software program setting, maintenance or modification for user specific operations

Large LCD Touch screen for easy humanistic user interface

Servo motor drives for high stability, fast speed, and durability

Industrial camera and light source module for high stability and long life

CCD Image inspection. This is the newest camera technology resulting in far better accuracy than the older CMOS type which used to be the industry standard.

Software controlled resulting in fewer adjustments for a changeover. Mainly collet and cushion require change when changing diameter

Capable of working with robot or other auto unload devices as well as operator interface for unloading tube from bender and starting load sequence

Large container capacity for tubes from 1" to 3-1/2" diameter in lengths from 28" to 120". Capacity in 2" OD size is 60 tubes
Front and Back views of YFD- 90C
YFD – 90C loader shown working with CNC 38 electric CNC tube bender
The machines and equipment we carry at J&S Machine are some of the most comprehensive bending machines which can perform a wide variety of functions, specific to each model. Whether you are looking for a manually operated machine or an automated CNC tubing bender, we carry just about any type of tube bender you would need. We serve a large number of industries and businesses which include everything from exercise equipment manufacturers to aviation production companies and more. The versatility of these tube benders and the number of different materials they allow you to work with are just a few of the reasons our customers value these machines. Our line of YLM tube benders and pipe bending machines offer you the highest quality design and superior materials to ensure they last for years to come. Most of these come with a full 1 year warranty and we also have extended warranties available for many of these models.
The line of YLM machinery and equipment we carry is designed for ease of use as well as the ability to easily integrate with other YLM products. We carry CNC tubing benders which can be coupled with automated side loaders which can drastically increase the production numbers for your company. This type of automated setup is a great way to get consistent quality for all of your finished products. All of the YLM equipment also features many safety features to ensure that all of your staff members stay safe while working with or around these machines. These have a variety of stop switches and emergency stops to help guarantee everyone is safe while working in your facility. If you are looking for a CNC tubing bender that can be coupled with an automated side loader, then you will want to take a look at our selection of YLM machines.
A popular option among some of our customers is to start out with a CNC tubing bender and add on a side loader at a later date. This allows you to fully utilize the potential of the CNC tubing bender before adding on the side loader. We also provide on site training when we setup your machine as well as providing paper manuals, instructional software, and more. Whether your business is considering an expansion or you are just starting out, all of our machinery and equipment represents the highest quality you will find anywhere but is still competitively priced. In addition to offering some of the highest quality tube benders and other equipment we also provide our customer with the highest level of customer service possible. Whether you need maintenance on your equipment or repairs, our highly trained staff will provide you with the top notch service you deserve. From the moment you purchase equipment or machinery from us you will see how we offer our customers a superior service experience from start to finish. Please take a look around our site to find out more about the wide variety of products we offer and you can also view technical specifications along with photos of most everything we offer.